The Bach-Dunn Collection of Luxembourgiana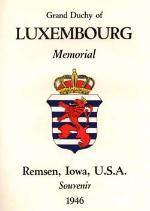 In November of 1993, the Luxembourg Heritage Society presented to the University of St. Thomas a collection of more than 270 books, periodicals, and maps related to the history and civilization of Luxembourg. The core collection was purchased by the society from Dr. Julian Plante, formerly head of the Hill Monastic Manuscript Library at St. John's University in Collegeville, Minnesota. Maria Bach Dunn provided the Luxembourg Heritage Society with the funds necessary to purchase the collection. Subsequent purchases and donations from individuals and organizations in Luxembourg and the United States have increased the size of the collection to over 2,000 volumes.

There is considerable variety in the subject matter of the works in the collection, including art; bibliography and biography; children's literature; genealogy (family history), general, and local history; heraldry, language, literature, and travel. Formats also include atlases, maps, sheet music, newspapers, and periodicals. Roughly 60 percent of the collection's titles appear in French, 20 percent in English, 10 percent in German, and 8 percent in Luxembourgeois.

All of the books and periodicals in the Bach-Dun Collection are cataloged and are entered in into LibrarySearch. Look for holdings designated by the locations OSF-Special or OSF-Special Oversize. Additionally, manuscript materials from the collection of Maria Bach-Dunn are featured in this collection.
Search
PARISH/CIVIL RECORDS
TABLES DECENNALES